Regional meeting in Shida Qartli Region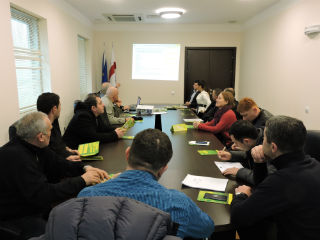 The NGO "Ecological Awareness and Waste Management" (EAWM) conducted another regional meeting on January 25, 2018 in Gori, Shida Kartli region. Meeting was held in the framework of the 'Clean Up Georgia – Phase III" Project aiming at informing the governance of the region on the hazardous waste (chlorine/chemicals) and threats caused by them on the territory of Georgia and in particular on the territory of Shida Kartli region.


The results of hazardous waste inventory, implemented in the framework of the project and the statistic data of detected hazards were presented at the meeting. Also there was discussed the current situation in Shida Kartli region regarding the threats caused by hazardous wastes (namely, chlorine / chemicals), and the presumed ways of solving problems.
In addition there were discussed the threats caused by chlorine (among them, cases on the territory of Georgia), utilization methods, security measures and issues related to HW management problems, the role of the government, prevention, etc.


Project coordinators instructed participants on the safety response measures to be addressed to avoid similar cases. In addition, participants discussed the negative impact of expired chemicals on human health existing in school laboratories.

The meeting was attended by the Head of Administration of State representative – Governor of Shida Kartli region, Representatives of Governor Administration, Environmental supervision, Gori public service/amenities and fire-rescue services.

Meeting raised interest among participants, who expressed their readiness to cooperate with the project. Project coordinators distributed Safety Action Plans, Hazardous Waste Management Guidelines, information Brochures, EAWM flyers, Emergency Response Communication Plans and recommendations, published within the framework of the project, among the participants of the meeting.

The "Clean Up Georgia-Phase III" project is implemented by a Consortium of NGOs "Ecological Awareness and Waste Management", Georgian Society of Nature Explorers "Orchis" and "Greens Movement of Georgia/Friends of the Earth -Georgia" with the financial support of the Swedish Government.

---
Back