Clean Up Action in Bolnisi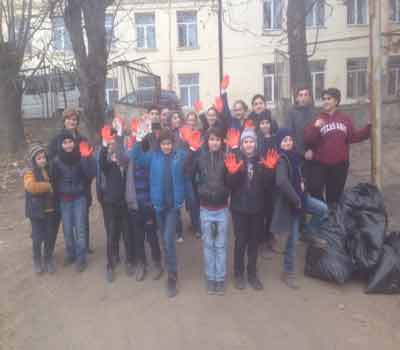 On December 15, in the framework of "Clean Up Georgia "campaign a clean up action was carried out in Bolnisi municipality, organized at the initiative of the Greens Movement of Georgia/Friends of the Earth-Georgia, with participation of the teachers and pupils of Bolnisi public school N1.
Within the scope of the action the pupils and teachers have cleaned up the public school surrounding territory, namely Sulkhan-Saba street. In total, 20 pupils and 1 teacher took part in the action and have cleaned up 1 ha area and collected 1.5 m3 of waste.
Clean Up action in Bolnisi was organized within the framework of the project - "Clean Up Georgia" (Phase III), implemented by NGO Consortium - " The Greens Movement of Georgia / Friends of the Earth Georgia", Georgian Society of Nature Explorers "Orchis, "Ecological Awareness and Waste Management", with financial support of the Government of Sweden and in collaboration with the Ministry of Environment and Natural Resources Protection of Georgia.

---
Back