1 2 3 4 5 6 7 8 9 10 11 12 13 14 15 16 17 18 19 20 21 22 23 24 25 26 27 28 29 30 31 32 33 34 35 36 37 38 39 40 41 42 43 44 45 46 47 48 49 50 51 52 53 54 55 56 57 58 59 60 61 62

---
2011-10-31 Clean-up actions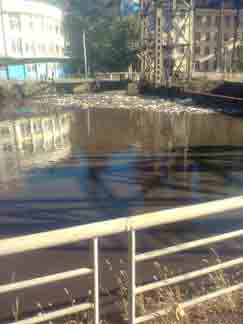 On 17-28 October, 2011 clean-up actions were carried out in the city of Chiatura in which about 300 schoolchildren and teachers participated.

2011-10-23 Climate Change Week in Georgia, 23-30 October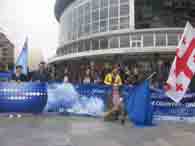 Already third year Climate Week is organized in
Georgia like in many other countries of the world and
is dedicated to Global Warming and Climate Change
issues. The main goal of Climate Week is to raise
awareness of general public on Climate Change
issues and enhence mobilization and involvement of
society in the processes of Climate Change impacts
mitigation.
Lozung of Climate Change Week 2011 is:
"One task – One Country – One Day" – Climate Week
Challenge


2011-09-27 Clean-up action in Chiatura

On 27 September the students of Chiatura Religious School cleaned the territory of Apostle Andrew Church which is under construction.

http://chiaturainfo.ge




2011-09-22 16, 17, 18 September,Clean Up the World!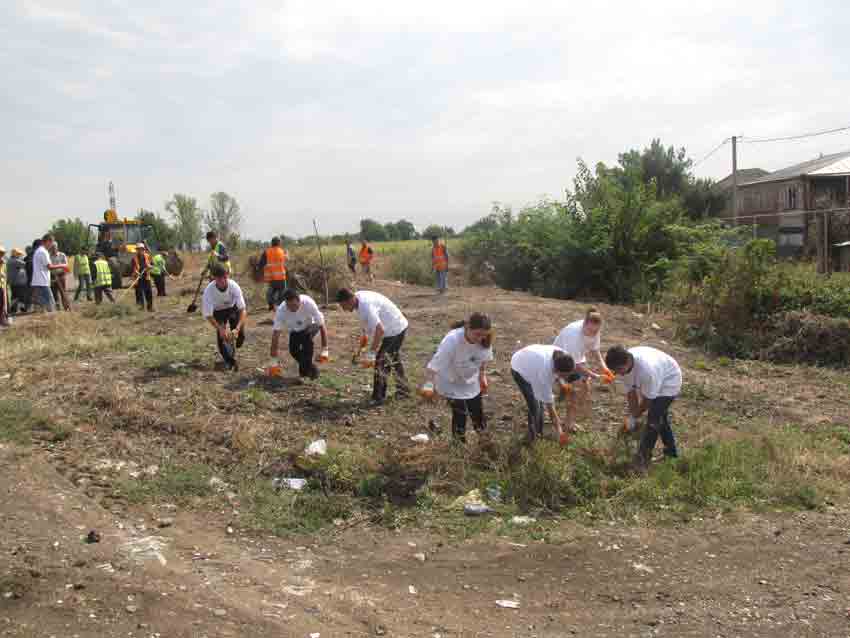 Clean Up the World, Clean Up Georgia- campaign was also successfully implemented on whole territory of Georgia.

Clean up actions were conducted in 58 municipalities, in 5 cities, and in 3 towns of Georgia. 37 695 volunteers took place in the action. 768 ha of polluted areas were cleaned up. 1 205 m2 of waste was collected and transported to the existing landfills. Students, various organizations, CSOs, local government representatives and representatives of the Ministry of Environmental Protection of Georgia participated in the action. Since 2010, 1 488,12 ha of area has been cleaned up, 2 646 m2 of waste has been collected and 73 745 volunteers has participated in clean up actions in Georgia.


2011-09-18 Information on clean up action in 16-17-18 september 2011

Guria
Chokhatauri
Date- 16.09.11
Chokhatauri center, adjacent area of rural market
Chokhatauri – Ozurgeti highway
number of participants-700,Cleaned up area- 5hg,Collected waste - 12 m/kub

Lanchkhuti
Date-16,17.09.2011
Adjacent area of railway
Center of Shukhuti village adjacent area of church
number of participants-1050,Cleaned up area- 4hg,Collected waste - 16 m/kub

Ozurgeti
Adjacent area of hospital
Adjacent area of depot
Shukhuti-Tskaltsminda highway
number of participants-825,
Cleaned up area- 6 hg,
Collected waste - 20 m/kub


2011-09-18 Information on clean up action location

Imereti

Tskaltubo
Mardjanishvili sq. to the railway crossing
Tabidze Street, Shanidze Street (public gardens and gutters)
Western part of Tabidze Street (along the railway from carwash until railway crossing).
participants 2100
Cleaned up area 10,5 ha
Collected waste (M3)25

Terjola
Along the River Chkhari, near natural spring
number of participants 2500
Cleaned up area 25 ha
Collected waste (M3) 28

Tkibuli
Adjacent area of the church
Number of participants 2000
Cleaned up area 27 ha
Collected waste (M3)30

Bagdati
lower Dimi, Dimi, Upper Dimi, public garden, Tamar Mepe Street
Number of participants 200
Cleaned up area 3,5 ha
Collected waste (M3)10

Khoni
Adjacent area of the hospital
Adjacent area of Sakrebulo, adjacent area of cannery; Forest park of Dadiani - Gordi
Number of participants 180
Cleaned up area 2,5 ha
Collected waste (M3)2

Vani
Vani center
in the direction of Zeindary village route
Number of participants 220
Cleaned up area 11 ha
Collected waste (M3)16

Zestafoni
16.09.11
Along Shorapani highway
Number of participants 280
Cleaned up area 2,5 ha
Collected waste (M3)18

Kharagauli
16.09.11
Kharagauli center
Number of participants 170
Cleaned up area 1,5 ha
Collected waste (M3)15

Samtredia
18.09.11
Samtredia_Batumi highway
Number of participants 120
Cleaned up area 15 ha
Collected waste (M3)10

Chiatura
19,20.09.11
Chiatura-Zestafoni highway, Naguta village
Number of participants 130
Cleaned up area 16 ha
Collected waste (M3)12

Sachkhere
Chiatura- Sachkhere highway
Number of participants 110
Cleaned up area 7 ha
Collected waste (M3)6


2011-09-18 On the clean-up actions carried out on 17 September 2011 in Kutaisi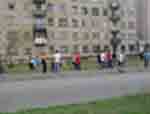 Kutaisi
17.09.11

Sulkhan-Saba Settlement along the central road
About 600 people participated in the action
The cleaned up area – 7 hectares
The amount of collected waste – 10 cubic meters


2011-09-15 Advertising video presentation on the waste management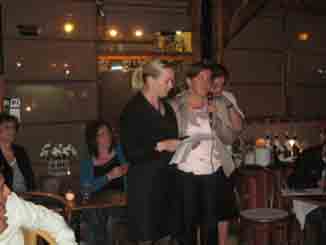 On 14 September 2011 in Tbilisi (N8, Sioni Street, Cafe-bar "Stop at the Konka) was arranged a presentation of an advertising video on waste management (3R principle).

The presentation was attended by H. E. Diana Janse, Ambassador Extraordinary and Plenipotentiary of the Kingdom of Sweden in Georgia, Mr. Alf Eliasson and Ms. Khatuna Zaldastanishvili, representatives of the Department of Development and Political Affairs of Sida,...

2011-09-14 Imereti Information on the clean-up actions to be carried out

Our request to you is to take the initiative and together with your colleagues, friends and family members choose the territories around you that need cleaning up or join us in planned clean-up actions which are to be carried out in:...

2011-09-13 Tbilisi

Please take initiative with your colleagues, friends or family members and select the place around you to clean it up or join us on the following places:

Location N1 - Northern part of Tbilisi Sea, 16 September, 2011, 10:00 am.

Location N2 - Gathering in Tbilisi, Digomi V/X block, Digomi forest-park, 16 September, 2011, 13:00 pm.

Location N 3 - Tskneti, forest-park territory, 17 September, 2011, 12:00 pm.

Location N 4 – Lisi Lake, 18 September, 2011, 11:00 pm.

Location N 5 - Tbilisi National Youth Palace garden, 18 September, 2011, 12:00 pm.







2011-09-11 Kakheti Information on clean up action location

Please take initiative with your colleagues, friends or family members and select the place around you to clean it up or join us on the following places:
Telavi
16 September
Time of action- 11:00
Place of action-
Adjacent bus station

Akhmeta
16 September
Time of action- 11:00
Place of action-
Alazani River valley

Kvareli
16 September
Time of action- 10:00
Place of action-
The city,
public gardens,
Akhalsopeli Village,
Shinda Village

Lagodekhi
17 September
Time of action- 12:00
Place of action-
Eretiskari Village,
Kartubani Village,
Leliani Village,
Apheni Village.

Signagi
16 September
Time of action- 11:00
Place of action-
Along the highway of Machkhaani Village,
St. Ilia school
adjacent area, adjacent area of Bodbe

Dedoplistskaro
16 September
Time of action- 10:00
Place of action-
Lower Khornabuji,
Japaridze Village,
Zemo Machkhaani Village.

Nukriani Village
16 September
Time of action- 10:00
Place of action-
Along the village highway
Adjacent area of the school







2011-07-29 Stakeholder meetings

Stakeholder meetings were carried out in Kutaisi, Bagdati, Kharagauli, Zestaphoni, Samtredia and Khoni municipalities under the project "Clean Up Georgia – Raising of Public Awareness and Involvement in Solid Waste Management Improvement" on 27-29 July, 2011.




2011-07-26 Stakeholder meetings

Stakeholder meetings were carried out in Terjola, Tkibuli, Vani and Tskaltubo municipalities under the project "Clean Up Georgia – Raising of Public Awareness and Involvement in Solid Waste Management Improvement" on 25-26 July, 2011.




2011-07-16 Seminar on waste management issues

On July 16, 2011 in the framework of the project "Clean-up Georgia – Public Awareness Raising and its Involvement in the Improvement of the Process of Solid Wastes Management" there was held a meeting with teachers and students of bachelor program of "the applied biotechnology" of the TSU Faculty of Exact and Natural Sciences on the issues of wastes management.




2011-07-07 Clean-up action in the settlement of Bediani (Tsalka) on July 2, 2011 in the framework of the campaign "Clean-up Georgia"

On July 2, 2011 in the framework of the Campaign "Clean-up Georgia", there was carried out a clean-up action in the settlement of Bediani (Tsalka) on the preliminarily identified polluted territories.







---

1 2 3 4 5 6 7 8 9 10 11 12 13 14 15 16 17 18 19 20 21 22 23 24 25 26 27 28 29 30 31 32 33 34 35 36 37 38 39 40 41 42 43 44 45 46 47 48 49 50 51 52 53 54 55 56 57 58 59 60 61 62